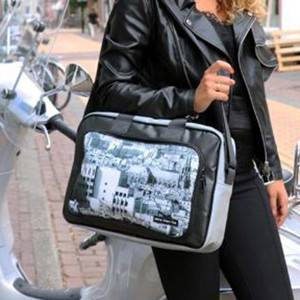 Recycled advertising banners
Do you fancy a bag no one else has? A bag of reused billboards is always unique. There are no two copies of the same model that are the same.

There is a lot of choice in colours and prints, so that everyone - man or woman - can bag the bag that suits him or her best.
What You See Is What You Get: you receive the bag on the pictures of the bag you order.

Van reclame tot tas: 100% duurzaam & recycling
Tegenwoordig is het gebruik van reclamebanners een populaire en betaalbare manier om je bedrijf te promoten. Kijk maar eens om je heen: je ziet ze langs snelwegen, op bioscopen en kantoorgebouwen, tijdens beurzen en congressen. 

Na een tijdje zijn ze niet echter meer actueel en is het restmateriaal in feite nutteloos. Hoe leuk is het dan om deze billboards dan te verwerken tot tassen of andere accessoires?

Upcycling in optima forma
MoreThanHip werkt samen met een atelier waar afgedankte banners en billboards worden getransformeerd tot nieuwe tassen. Dit is grotendeels ambachtelijk handwerk. 

De banners worden eerst schoongemaakt. Daarna volgt het selecteren van de stukken die het leukst zijn voor op de voorkant van de tas. De volgende stap is het op maat snijden van de banners met behulp van patronen. Pas dan wordt de tas zelf in elkaar gezet. 

Kleurrijk en uniek
Omdat de tassen gemaakt worden van gerecyclede reclamebanners is geen van deze tassen exact hetzelfde. De modellen zijn natuurlijk gelijk, maar de kleuren en de prints zijn altijd uniek. Zeg nu zelf, hoe leuk is een tas die echt niemand anders heeft?

Slijtage tijdens het gebruik
Bij intensief gebruik kunnen de prints wat vervagen en afslijten op de hoeken. Het materiaal is namelijk oorspronkelijk bedrukt om te dienen als reclamebanner en dat hoeft niet heel slijtvast te zijn. In het gebruik krijgt je tas hierdoor een leuk vintage effect. 

Relatiegeschenken van eigen banners
Gebruik je als bedrijf reclamebanners of billboard? Denk dan - als ze afgedankt worden - ook eens aan de mogelijkheid om deze te laten recyclen tot artikelen zoals messenger bags, shoppers of toilettassen. Door deze aan relaties en/of medewerkers te schenken, benadruk je het duurzaamheidsbeleid van je organisatie op een opvallende manier. Neem dan contact met ons op om de opties te bespreken.