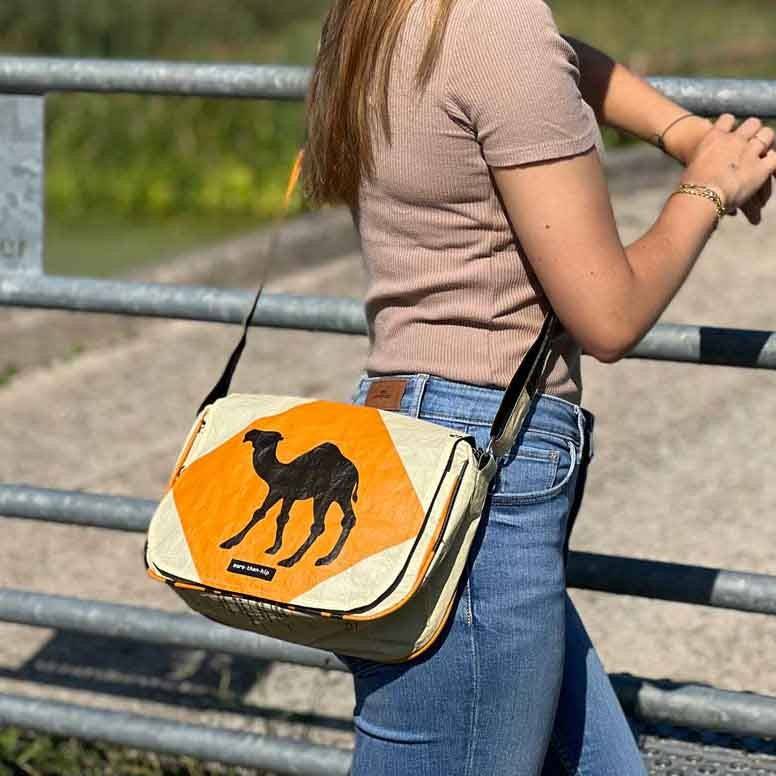 You will find a wide range shoulder bag collection at MoreThanHip. Is casual brown your favourite colour? Or would you rather go for deep sea green? A lot of our shoulder bags come in several colours or with different colour accents.
Ecologische schoudertassen voor dames en heren kopen

Met het lange hengsel hang je een schoudertas gemakkelijk over je schouder en kan je echt alles bij je dragen. Hierdoor is de schoudertas niet alleen modieus, maar ook zeer praktisch. Ben je ook gericht op duurzaamheid? Bij MoreThanHip hebben we grote eco leren schoudertassen voor je laptop en papierwerk. Of houd je meer van elegante stijlen met modieuze kleuren? De keuze is aan jou!

Deze geweldige mode-items zijn een finishing touch voor je garderobe. Het zijn ideale reisgenoten voor school, werk of om te winkelen. De multifunctionele tas heeft eindeloos veel stijlen om goed voor de dag te komen. Daarnaast is er ruim aanbod aan handige en elegante casual schoudertassen.

Schoudertassen met brede band

Bij schoudertassen staat comfort hoog in het vaandel. Per slot van rekening moeten de tassen flexibel en comfortabel zijn om te dragen. De meeste tassen in de collectie van MoreThanHip zijn gemaakt van eco leer en hebben de hoogste kwaliteit, bieden voldoende ruimte met afsluitbare vakken en de schouderbanden zijn verstelbaar. Kies jij voor een kleine schoudertas of voor een grote schoudertas?

De schoudertas is natuurlijk een verlengstuk van je persoonlijke modestijl en is voor iedereen. Daarom biedt MoreThanHip schoudertassen voor dames en heren.

Schoudertassen online bestellen

MoreThanHip probeert klanten zo goed mogelijk van dienst te zijn. Vandaar ben je 365 dagen per jaar 24 uur per dag welkom bij MoreThanHip voor lifestyle producten met een stijlvol design én een duurzaam karakter. Bestel een product vóór 23:00 uur en het wordt dezelfde (werk)dag nog verstuurd. Boven de 35 euro krijg je ook nog eens gratis verzending! Daarnaast heb je bovendien 30 dagen retourtermijn als het product je niet bevalt.