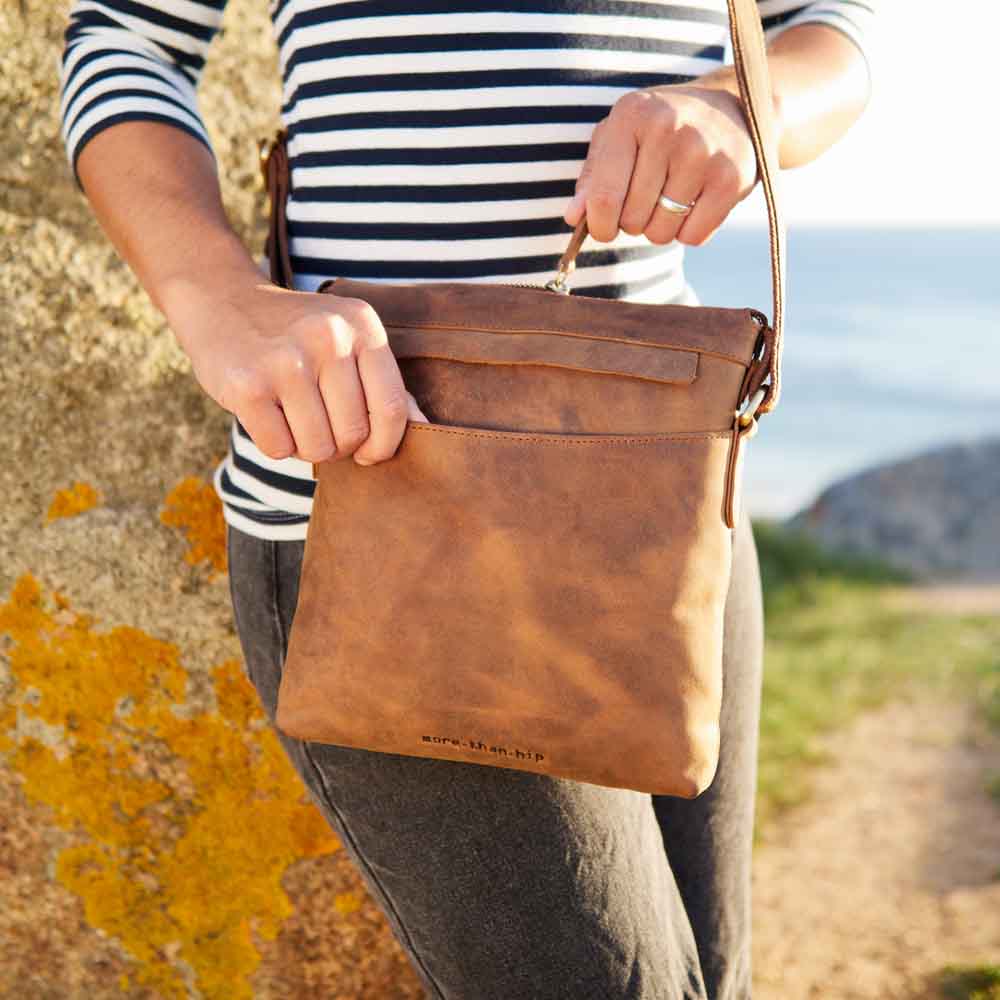 Our handbags come in all shapes and sizes and of a lot of different materials. Are you scrolling down the internet for weeks in order to find a perfect handbag with shoulder strap or more likely without? At MoreThanHip you have a lot of choices. Discover our collections and fall in love with one of these special bags…
Handtassen kopen van duurzame materialen

MoreThanHip schept er een groot plezier in om stijl- en smaakvolle producten te maken van gerecyclede materialen. Met deze uitdaging dragen wij en jij als koper niet alleen bij aan meer duurzaamheid, je pronkt tevens met unieke ontwerpen - het oog wil immers ook wat. Met modellen voor elke gelegenheid - vegan handtassen, eco handtassen of een fairtrade handtas - trek je op een positieve manier de aandacht. Kijk naar de diverse stijlen, soorten en maten en trakteer jezelf!

Handtas voor school of handtas met laptopvak als multifunctionele metgezel

Een handtas draag je om kleine spulletjes en accessoires in op te bergen, zoals make-up en je telefoon, maar soms heb je meer ruimte nodig. Je handtas wordt je multifunctionele metgezel als je er bijvoorbeeld ook je laptop of schrijfmap in kwijt kunt. Dan neem je hem mee naar school of werk en blijft het apparaat goed beschermd. De schouderband maakt het tot een comfortabele accessoire. Een grote handtas zoals dit sierlijke exemplaar springt in het oog, is handzaam en biedt de gewenste ruimte voor zowel je laptop als andere spullen.

Dames handtas: ons schitterende en duurzame assortiment

Zoals gezegd hebben duurzame producten de voorkeur en MoreThanHip voldoet geheel aan die trend. Gerecyclede en bovendien vegan materialen zoals cementzakken, autobanden, vrachtwagenzeil komen op herkenbare en speelse wijze terug. Of je nu een wat groter model dames handtas zoekt, of een kleine en vrolijke clutchbag voor feestjes, check dit kleurrijke ontwerp! Op die manier dekt de naam MoreThanHip ruimschoots de lading: hippe producten met een meerwaarde. Een ecologische handtas met een origineel ontwerp trekt vroeg of laat de aandacht. Schroom niet, spread the word voor een betere wereld!

Handtas kopen van gerecycled leer of zelfs bliklipjes

Overigens is de klassieke leren handtas niet verdwenen, alleen zijn onze handtassen gemaakt van plantaardig gelooid leer. Een stuk milieuvriendelijker. Van crossbody tasje tot deze vintage style handtas . Wat losser en zwieriger is een schoudertas van hergebruikte cementzakken. Dat is het opwindende achter de MoreThanHip-filosofie, onze ontwerpers zijn 21-eeuwse multitalenten die afval niet als afval zien, maar als materiaal om wat nieuws en bijzonders mee te creëren. Dat zie op je overal op deze website terug. Ook reistassen, sjaals, woondecoratie en diverse andere eyecatchers zijn vervaardigd uit de meest uiteenlopende stoffen. Laat je inspireren op een eigentijdse manier en gun jezelf zo'n duurzame en stijlvolle handtas!