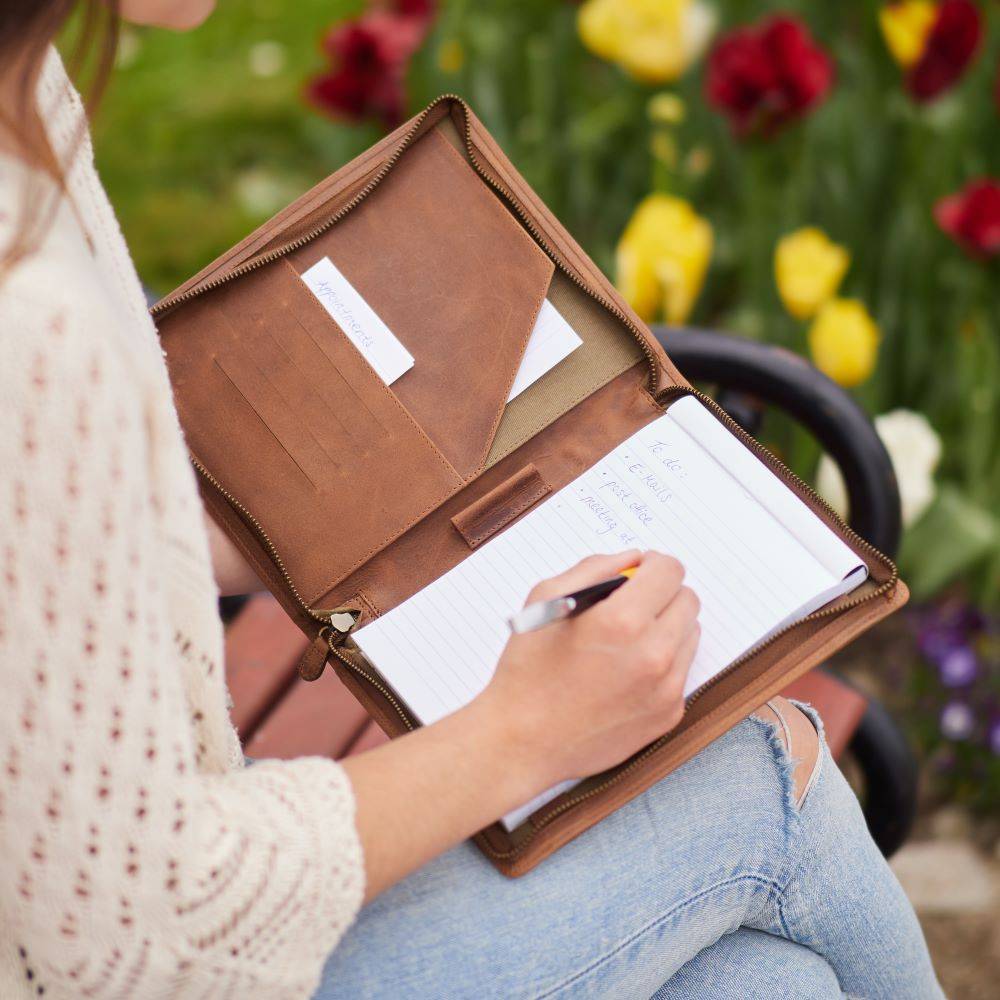 Writing case / document folder made of leather in A4 or A5 format
Looking for a nice writing case for your work or to give as a present? At MoreThanHip you will find a unique range of writing cases in high quality eco leather. This leather is vegetable tanned and very strong and beautiful. The construction and finishing is also very solid.
Moreover, our writing cases are honestly produced in India. In short: environmentally friendly and Fair Trade, so doubly sustainable.
With a MoreThanHip writing case you have something beautiful and good in your hands

A writing case is both a practical and a professional accessory. In the first place, of course, it is very handy for storing documents, memos, business cards etc. and for making notes on the writing pad. Because although we do almost everything digitally these days, it is still important to be able to write something down quickly.



Convenient and professional

Moreover, a writing folder or a document folder ensures a professional look and feel. This makes it easier to attend both internal meetings and external meetings with customers and suppliers. Especially with MoreThanHip's leather writing folders, which are made without exception of vegetable tanned leather. But it is not only the use of eco leather that makes these accessories sustainable. After all, they are also honestly produced according to Fair Trade standards.

Another advantage of the writing case that is rather underestimated is non-verbal communication. When you are talking to someone, for example just after meeting them, sometimes you don't know where to put your hands without taking a closed or nonchalant attitude. However, if you have a document folder in your hands, at least you know where to leave it and you come across as active and interested.



Unique assortment

At MoreThanHip you will find a unique range of writing cases. In compiling our range we have paid a lot of attention to ease of use. This is reflected in the organizer with many compartments and boxes to store papers and cards. Most A4 writing cases even have a compartment for your iPad or other brand of tablet. Our folders also close all around with a zip, so nothing can fall out and you can safely store everything in them.



Leather writing case

What's more, our writing cases are made without exception of high quality leather. This is guaranteed to give you years of pleasure. In addition, it gives a luxurious look and the leather gets an increasingly beautiful patina during use. The leather is vegetable tanned (or eco-leather) and therefore also environmentally friendly.



Writing case A4 & A5 size

Our document folders come in A4 and A5 format. This means that an A4 or A5 notepad fits in them. That is why you will always find a suitable leather writing case that fits in your work bag or laptop bag. The writing cases are part of a wide collection of bags and accessories, so you can also choose a wallet, case and briefcase, shoulder bag or backpack in the same type of leather. This way you can put together a nice set in one colour leather.



A writing case as a gift or business gift

Every writing folder or document folder that you can see here in the MoreThanHip webshop is of very high quality, so you are sure to enjoy it for a long time to come. And if you give a leather writing case as a gift - private or business to your employee or as a business gift - then you are guaranteed to get a quality item. For larger quantities, it is even possible to have your company name included in the writing case.



Durable quality brands

The writing cases in our range are from our own brand MoreThanHip and from the brand GreenBurry. The similarity between both brands is the high quality vegetable tanned eco leather, the solid construction and finishing and the fair production according to FairTrade standards. In short, a double sustainable product.

At MoreThanHip you also enjoy free shipping, fast delivery and a 1 year warranty on your leather writing case. For more information, questions about a product, or questions about an order, please contact our customer service department at 0348-470140 or info@morethanhip.nl.