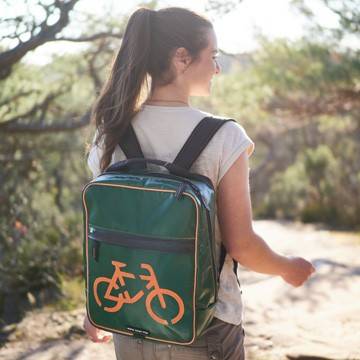 New backpack or backpack? Discover our unique range
A backpack is handy, so you always have your hands free. You can take a lot with you, while the weight is well distributed over your shoulders and back.
But a backpack can also be beautiful. That is why we offer a unique range of special materials such as truck sail, eco leather and car tire. Both for men and women.
Pictured left: London backpack made from recycled lorry tarpaulin
Backpacks for ladies and gentlemen

A backpack is very useful if you go to work, study or school by bike or public transport. A backpack is also a popular accessory for a day out or on holiday. Many women even prefer to use a backpack instead of a handbag or shoulder bag.

So many people, so many wishes. That is why we have a wide range of backpacks for women and men. Made from sustainable materials, such as reused truck tarp, recycled truck inner tube and ecologically tanned leather.

Sustainable and fair trade production

Our backpacks are selected for their beautiful design, special material and good finish. Moreover, you can rest assured that our backpacks are produced in an honest way, often according to Fair Trade standards.

Waterproof backpack

For cyclists, motorcyclists and hikers it is important that a backpack does not leak during a rain shower. Our backpacks made of truck tarpaulin and car tire are watertight and therefore ideally suited for the Dutch weather.

Leather backpack

Many people prefer a leather backpack. Not surprising, because leather is a beautiful and strong material that will last for years and usually only gets better in use. Our leather backpacks are extra durable in that regard, because they are made from vegetable-tanned ecoleer.

Laptop backpack

Almost all of our backpacks have a reinforced laptop compartment, so you can safely take your laptop with you wherever you go. Do you choose a backpack without a laptop compartment, but still want to be able to take your laptop with you? Then we recommend using a laptop sleeve as extra protection.

High Quality

Our backpacks are of high quality. In the first place because of the strong and durable materials from which they are made. But also because of the solid and professional finish. Think of strong zippers and comfortable, adjustable straps. You will therefore enjoy years of pleasure from a MoreThanHip backpack.