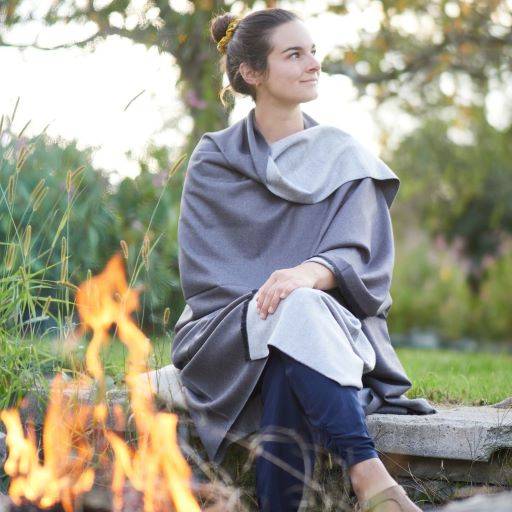 Soft, warm 'yak wool' plaids
The most beautiful and soft plaids can be found here. Both in winter and summer these blankets are a must have, because they are delicious for inside on the couch. And indispensable outside in the garden. For example, during a beautiful summer evening under the stars or in any other seasons when you are sitting around the outdoor fireplace or fire basket.
The Indra living blanket of 'yakwool' (cotton/acrylic), very soft, light and yet warm, is ideal. Available in many colours and colour combinations.
"Yak wool" scarves and plaids: light, soft and comfortable

This scarf or plaid keeps you warm when it starts to grow fresh outside, but is also ideal as a wrap or blanket for yoga or meditation. That's because of the good insulating effect of the fabric. In addition, this fabric does not itch or sting so it feels very comfortable.



"Yak wool" from Nepal

The scarves and plaids are made in Nepal. There the tissue is called "Yak wool" by the locals. However, these articles do not contain a true yak wool. That's a scarce and therefore very precious material.

In fact, these scarves are made of a combination of cotton and acrylic. In appearance and feel, this looks like yakwol: soft and light in weight. In addition, it insulates excellent and is warm and comfy.



The charm of handicraft

The scarves and plaids are made on simple, hand-operated looms. This can cause minor irregularities in the weaving. The colour may also differ slightly from the pictures. This is not a sign of lesser quality, but just increases the charm of the craft.



Fair product from Nepal

These articles are woven in Nepal. This happens in a small company, where employees are treated well and get a fair salary.



Cleaning tips

Hang your scarf or blanket out in the open air regularly, to let the odors blow. Washing is possible, but do not do this too often. Handwash only in lukewarm water with a little laundry detergent. Do not twist, but let it dry on a towel.