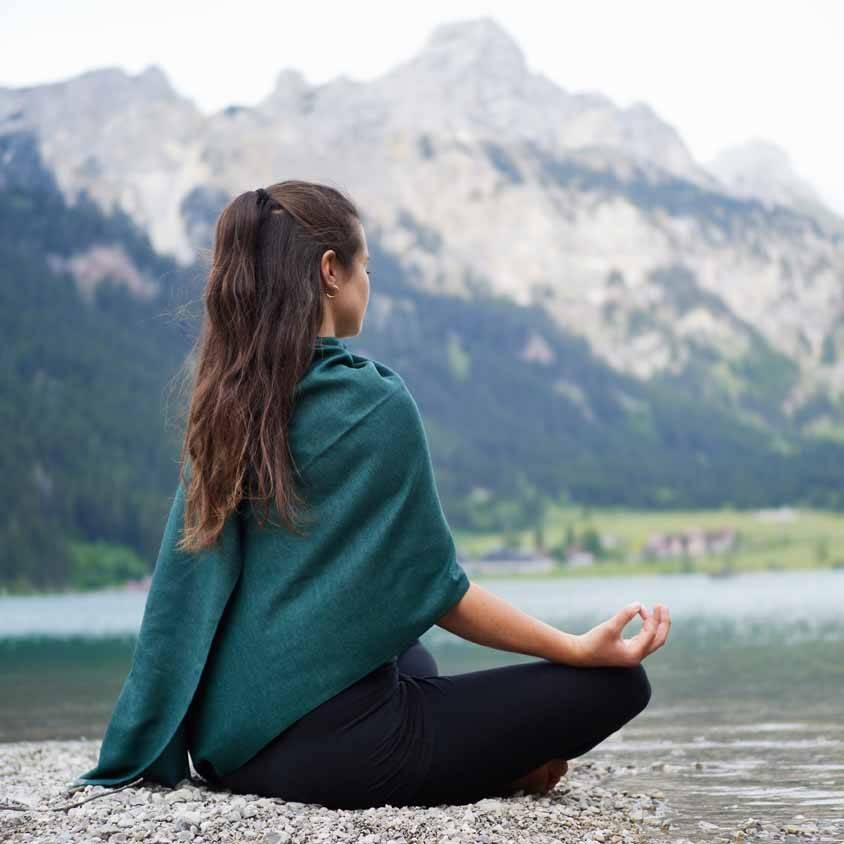 Scarves and shawls made of bamboo and 'yak wool'
At MoreThanHip we have a wide range of scarves and shawls. Not only wonderfully soft and warm, but also very beautiful and sustainable.
In terms of material the scarves come in bamboo or 'yak wool' (cotton/acrylic). You can also choose from two sizes: 30 x 200 cm and 60 x 200 cm. And of course there are many colours and colour combinations.
If you would like to know more about the great features of the bamboo scarves, please read more under the products.
Warm and comfortable scarves and shawls made of Bamboo

With a bamboo scarf you not only choose a super soft and warm scarf with a beautiful, luxurious look. You also make a very durable choice. Below you can read all about the good qualities of bamboo.



Bamboo gives a soft and luxurious feeling

Bamboo is often compared to cotton. This is not so strange, because fabrics made of bamboo are already often used as an alternative to cotton. You can find it, for example, in t-shirts, underwear and socks.

As far as the look & feel is concerned, you can say that bamboo is for cotton, which is cashmere for wool: a softer and more luxurious feeling. But without animal materials, so 'vegan cashmere' is very appropriate.



Bamboo is hypoallergenic and does not itch

Bamboo feels super soft and is very pleasant for the most (allergy) sensitive skin. It is also antistatic and does not itch. Bamboo even has thermal properties, making it nice and warm in winter.

Another important advantage is that bamboo itself has antibacterial properties and is antifungal. As a result, it is hypoallergenic and remains clean and fresh smelling much longer.



Bamboo remains beautiful and lasts longer

And despite the fact that bamboo is soft, it is very strong. This gives your scarf a longer lifespan and stays beautiful longer after washing. By the way, you wash it at 30 degrees (can be machine washed). Do not use fabric softener and do not dry by machine, just hang out.



Two types of bamboo scarves: narrow and wide

MoreThanHip offers bamboo scarves in two sizes and four colour combinations. There is a narrow scarf, the FanXing, which is 30 cm wide and a wide scarf or shawl, the WuWen, which is 60 cm wide. The length of both scarves is 200 cm. Nice and long and suitable to wear in different ways.

Each scarf is woven two-tone and has a dark and a light silk in the same colour tone. The colours you can choose from are: green/mint, jeans blue/light blue, black/grey and taupe/cream. This also makes it possible to wear the scarf in different ways.



Named after the pandas in Ouwehands Zoo

Our scarves are named after the giant pandas WuWen (the mother) and FanXing (the baby) in Ouwehands animal park in the Netherlands. Pandas are always mentioned in the same breath as bamboo, because it is the main food of these beautiful bears.



Bamboo: a very durable plant

In addition to the above mentioned advantages that the use of bamboo textiles provides, bamboo also appears to be a very sustainable crop. The cultivation of bamboo is often compared to that of cotton. And bamboo also comes out very positively, in terms of environmental and climate friendliness. That too needs some explanation, but it is very nice and interesting to know. It makes your bamboo scarf taste even better.



Fast growing, without extra water and pesticides

Bamboo is a plant (or rather a grass species) that grows very fast - some species up to one metre a day. And that without help. Bamboo gets enough of the light of the sun and the rain that falls. There is no need for watering, nor for pesticides. The plant itself produces an antibacterial substance. It is therefore impossible for pesticide residues to end up in the soil or to remain in the substances made from bamboo.

By way of comparison, a kilo of cotton requires 7 000 to 29 000 litres of water. No less than 11% of all pesticides and 25% of all insecticides in the world are used in cotton cultivation.

When you also read that bamboo yields 20 times more fibres per hectare than cotton, it is not strange that you ask yourself: why is more bamboo not planted and less cotton?



High CO2 uptake and oxygen production

But there is more. Bamboo is also very good for the climate. It absorbs five times more CO2 from the air and produces 35% more oxygen than the same volume of hardwood trees.

Two-thirds of the carbon absorbed is also stored in the soil and root system of bamboo plants. And that's where it stays, because after the harvest the roots remain in the soil and new bamboo stems grow out of it. So it does not need to be replanted.

Another positive side effect of this is that the root systems keep the soil together. This helps to prevent soil erosion caused by wind and rainfall.



Ideal crop for a sustainable future

Bearing in mind that bamboo has many applications, such as in the construction and furniture industries, it has everything it takes to become an important agricultural crop in the future.